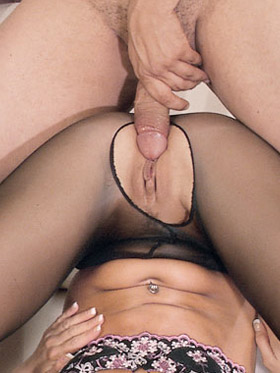 7pm at the hotel" was all his text had said. She walked into the hotel lobby shaking the rain from her umbrella. It hadn't stopped raining all day. Moisture drenched the air with a close humidity that made her thin cotton T-shirt cling uncomfortably. She checked in at reception and gratefully took the room cardkey with thoughts of a refreshing shower at the forefront of her mind. As she walked towards the lift her mobile beeped with a new text message. "Black spiky heels, seamed stockings as instructed." She smiled inwardly. That had been straightforward. No issues there. She had both natural and black stockings just in case.
Once on the second floor she clicked open the door to her room and switched on the light. She lay down on the bed, on her back, arms and legs stretching out attempting to fill the soft space. The room was silent except for the low undertone of the air-conditioning. Suddenly the quiet was cut through with the high pitch of her mobile announcing another text message. "I trust you are aroused and wet. I have your paddle and a blindfold ready." She always felt the same heady mix of anticipation and restlessness. No need to reply, he'd know she was more than stirred at the thought of this meeting.
She pushed herself up off the bed and headed for the shower. The rain continued relentlessly as his Lotus swept into the car park from the main road. Looking out of the window as he walked from the car, her rose-pink lips smiled broadly. Should she go down to reception to meet him? Would he come up to the room? He'd decide, so she stayed where she was and finished getting dressed. She was adding a second layer of mascara when another text message came through to her phone. "Come down to the bar. We will have a drink."
"Ok, we'll have a drink", she thought as she left the room. The bar was towards the back of the building, tucked behind the restaurant. Low lighting and supple leather seating gave an intimate atmosphere, far removed from the glass and art-gallery feel of the main hotel lobby. He was sitting at one of the small side tables and stood up to catch her eye as she negotiated the few steps down to the bar area. A quick, almost dismissive, kiss and they sat down. There were already drinks on the table, a whisky and a cloudy cocktail.
"Drink it", he said, "you'll like it".
She took some and the alcohol warmed the back of her throat. She licked her lips and caught the salty taste from the rim of the glass. He'd known she needed something with a forceful kick. They chatted lightly, about nothing in particular, the rain and the ease of booking the room online. Then, without warning, he moved his hand under the table and steadily up her thigh, raising the hemline of her short dress. First he reached the tops of her stockings and played with the suspenders for a moment. He went higher and found she was not wearing panties and her pussy was wet, smooth and shaved.
"Good girl", he murmured, smiling.
No matter how hard she tried to fight it those two words melted her inside. She was immediately aware of the hot liquidity between her legs as he expertly used his fingertips on her sex. Everyone else in the bar disappeared or became willing voyeurs as he increased the pressure on her sensitive bud. She looked straight into his velvet-brown eyes, her expression reflecting every movement of his fingers.
"Can we go upstairs?" she asked breathlessly.
"Not until you come," he said.
She felt vulnerable and safe at the same time. His fingers rubbed her juices into her responsive skin. He pushed inside her sharply, with force. Looking into his eyes she fought against losing all control but understood she'd no choice. She bit her lip as she fell over the tipping point pushing hard into his hand as she came, thankful that new people had joined the crowd in the corner and loud laughter filled the bar overpowering her own low moan.
"Finish your drink and we'll go upstairs", he said removing his hand from beneath the table.
"Yes", was all she could reply as she shakily picked up her glass.
The cocktail had been particularly strong and made her lightheaded as they left the bar. She leant against him for support, hands on his arm in the lift and along the hallway. Opening the door, he quickly found the light controls and the room filled with a purple haze. After retrieving some items from a sports bag and laying them out, he put his jacket on the back of a chair. She picked up the leather paddle from the bed. She brought it to him saying nothing at all. Her eyes told him all he needed to know. She needed spanking. Her needs matched his.
"Take off the dress", he instructed.
She took off the dress without a sound. He ran a hand over her firm arse as if moulding and sculpting the shape. She stood by the wall, in black bra, seamed stockings and heels, arching her back to offer herself to him.
"In a moment", he said going over to the bed. He brought over lubricant and a jewelled butt plug. Circling her clit with his fingers he brought waves of electricity over her again. Easing the plug gently and slowly inside her anus, she gasped. New sensations flooded over her, she felt full, fuller than ever before. She then wondered if the plug was secure but it seemed to stay in place. He picked up the paddle and started gently. A few light hits which made her pussy tingle with delight.
"Do you like that?" he asked.
"Yes", was all she could reply.
Then with more strength he gave four strikes in quick succession which made her fill the room with a short sharp scream and brought red heat to the cheeks of her arse.
"Is that what you want?" he questioned, speaking straight into her ear.
Not waiting on an answer he started spanking her again. Four more times, another brief scream, louder. She was beginning to feel the pain and wondered how much more she could take.
"Easy", she managed to remember to say.
He rubbed the hot skin of her arse soothingly and the throbbing eased. Another two hits, firm but with less force, below the others, at the undercurve of her buttocks.
"I need to fuck you now," he said with urgency, "Now!"
He threw the paddle on the floor, removed the butt plug tenderly with care, and immediately entered her from behind, bending her over. She felt the strength in his arms as he held her hips and pulled her towards him with each thrust. He reached deep, deep inside her. His hard, strong cock penetrating her right up to his balls. She kept her hands on the wall, giving her purchase to meet his body. Short staccato sounds came from her throat with each forceful drive. He withdrew and came over her red-striped arse, the spunk trailing down the backs of her thighs, moistening the lace tops of her stockings. He gave a groan, kissed the nape of her neck and turned her round to kiss her firmly on the mouth.
He pulled away from her and changed the colour of the lighting to a deep blue, surprisingly giving the bed a warmth which was inviting.
"I think you deserve a reward. What would you enjoy?" he asked, his eyes sparkling.
He moved to the bottom of the bed and she laughed softly, moving towards him on all fours. Kissing all the way up his stomach, flicking at his nipples, she then straddled his face, raising herself high. He held her thighs firm and caressed her arse while he started slowly dragging his lips on her vulva. She begged him to continue. Then with his tongue he teased all over her sopping wet pussy. It was now pitch black outside and the floor-to-ceiling windows acted as a giant mirror reflecting the tension in her body and then her ecstasy as he probed deep, fucking her with his tongue. She screamed as she had earlier in the evening but this time with an orgasmic release that forced her to collapse on the bed, falling at his side, breathless, complete.
After breakfast of warm croissants and hot coffee in the white light of the dining area, he checked out while she stood at his side.
"Same room booking next month sir?" smiled the young receptionist.
"Yes please", he said with a wink, walking out into the autumn sunshine.