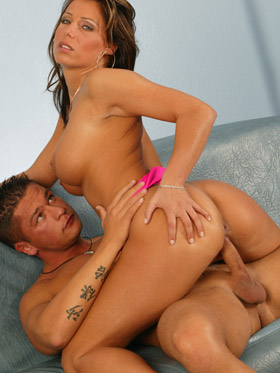 I didn't know her name and I still don't. We met in a bar in Brighton. It was one of those hot sultry nights in July. The type of hot sticky night when it just doesn't cool down. I always feel super horny on those nights. I was drinking Chablis in a flashy wine bar and the first thing I noticed was her perfume as she brushed by me. I swear she then brushed her hand against my crotch, but the bar was crowded and I couldn't be sure. It must have been an accident I thought. She stood there facing me looking intently into my eyes and smiled the most gorgeous smile. Typical small talk followed, but there was a twinkle in her eye, a sly smile as if she knew she had already got me. Which of course she had. The first time I looked at her I was smitten. She was quick witted, funny, with a slightly posh accent, which I love, being a typical Essex boy. She was petite, with small tits, great legs and a fantastic peach of a bum. She wasn't tarty, but well dressed, classy. Just my type. The chemistry was there from the first moment and I could feel the sexual energy between us. The conversation was there but I could tell that we both wanted to forget the crap and just get down to it. The thing was, she was there with a guy. He was lurking while chatting to his mates, and constantly glancing over.
"Is that your boyfriend?" I asked casually.
"I don't do boyfriends?" she says "but I do see several guys."
"So what about wanker chops over there?"
"Oh he's just someone I call if I need a shag."
I was surprised by her candour, and slightly unnerved. I'm normally quite a confident guy, never have too much trouble with women and I'm the one that normally calls the shots, so this was going to be a little different I could tell. I was just about to carry on with the small talk; maybe buy another drink when she leant towards me, breathed in deeply then blew gently on my lips. I was pretty charged up by now and that made my cock twitch in my pants. I thought she was going to kiss me, but she just whispered in my ear. "I'm leaving now. Don't follow me, but be here in one hour." With that she slipped a note with an address on it into my hand and was gone. I did wonder at least one second whether I should bother. She could be a prick teaser, or it could just be a wind up. I was horny as hell and wasn't going to miss the chance of sex. I arrived at her address exactly an hour later. It was not a mansion, but not far off. A big sweeping drive and a massive manicured garden, statues the lot. I knocked on the heavy wooden double door, and it must have been unlocked because it swung slowly open. "Hello! Heeelllloooo." Nothing. I walk tentatively into the hall, and notice a marble staircase circling the entire hall, which is two stories high. This is some pad.
"Helloooo."
Still nothing. I venture forward, wondering if I have the right address and if a fucking great Doberman is going to come tearing in and leap at my throat. My pulse is already racing with the thought of what is going to happen, and now the adrenaline is pumping through me. It has been about two months since I last had a shag and I am seriously gagging to get in this bird's knickers. Where the hell is she?
There is a light on, so I walk through into the massive lounge and see the patio doors open. The curtains sway in what little breeze there is, attempting to cool the humid night. I walk towards the patio and can hear a faint splashing. I hurry through and see a pool lit up at the bottom of a huge lawn.
I walk as casually as I can muster to the pool. It is kidney-shaped, with a hot tub at one end. Then I see her. Head back, eyes closed with a glass of champagne in her hand in the tub. She looks even more stunning in the moonlight. There is light, but not much and I have trouble making out her features. I can see she is naked, at least from the waist up, and her pert brown nipples are exposed just above the swirling steaming water.
"Hey, oh, hello?" she replies looking surprised. "Would you like some champagne?" "Don't mind if I do."
"Just help yourself, the bottle is over there."
She points to a table with her clothes strewn over it. I pour myself a glass.
"If you want to fuck me, you will need to do as I say," she says.
"Er, Ok." I am slightly shocked. "What do you want me to do?"
"I want to see your cock first, come over here, and let me see it."
I stroll over to her and pause.
"Well come on, get it out, let me see, I so love cock, especially hard cock- and I absolutely love watching men wank." I wish I had had a couple more drinks, as I'm still sober and her front, while great news, is not what I'm used to. Awkwardly I fumble open my button fly. Fortunately my cock has not let me down. It's almost hard, and looking quite impressive.
"Pull your foreskin back slowly, and make it hard for me," she whispers. So, there I am standing by a strange sexy bird, who I met for ten minutes an hour ago, slowly wanking my cock. It doesn't take long before it is standing fully to attention. The purple red bulb, glistening with pre-cum, is exposed when I pull the skin all the way back. She has turned around with her arms crossed resting her head on her hands on the side of the tub with her legs pointed straight out floating on the swirling water. I can see her arse and I do love a good arse - this one is perfect. I'm standing there, she is watching me wank intently, licking her lips. So I edge towards her, thinking she wants to suck it. She holds a finger up. "Uh! I told you if you want to fuck me, you have to do what I say. Keeping wanking I want watch."
Fuck this is turning me on, I've never been bossed around like this before, and the combination of the heat, the sight of her licking her lips and that arse is really getting me going. "Don't stop." she says levering herself out of the tub. She stands there, her body glistening in the moonlight, her eyes still fixed on my cock. She reaches for a towel, and pats herself dry, her eyes never straying from their target. She starts to stroke her small but perfectly formed tits and I can see her nipples stretching out. I'm dying to suck them but dare not stop what I'm doing. I'm also really getting off on this as I have always had some exhibitionist tendencies. Her spare hand moves down her stomach and starts to rub her mound. She has a small tuft of blonde gingery hair; she slides one finger down past her mound and between her slit and starts to circle her clit. "Wank harder for me."
So I duly oblige. My hand pumps my rock hard cock. Any thoughts of feeling foolish disappear as we stand there in the moonlight wanking ourselves. She seems fascinated by what I'm doing and I have to say I am too, watching her. Her knees start to give way as she sways with the movement of her hips, grinding against her hand. I feel myself starting to come, so slow down.
"Don't stop - remember what I said." "But I'm going to come if I carry on like this." "Don't stop," she says firmly, kneeling in front of me. She is only a couple of inches away from me, rolling her tongue around her lips, one hand squeezing on her tits, the other now frantically rubbing her clit. This is just too much for me, I feel that familiar build up and I try to hold back as long as I can.
"I'm coming?" I groan At that moment she takes my cock fully into her mouth, just as I explode into her throat. My god that feels good. Spurt after spurt my cock jerks involuntarily, her lips still surrounding me as she swallows every drop of my cum. I'm just about managing to hold myself upright, and she keeps my cock right there, reaching her hand to wank every drop from me. She looks at me and smiles that saucy smile that I first noticed. "Right, did you enjoy that?" "You bet?" I reply.
"Ok, would you like another drink?" matter of factly. As I didn't make it to the first one, I say I'd love one. She walks away - that arse wiggling as she does so, and turns and curls her finger, beckoning me to follow. She grabs the bottle of champagne and heads towards what looks like some sort of summerhouse. Inside there is a massage bed. I follow her obediently. She slides onto the bed, sitting upright. I walk towards her, and she pours the champagne between her legs.
"I love the feel of bubbles on my pussy. Want to try some?" She opens her legs, her creamy white thighs parting to expose her shaved pussy lips. She pulls her lips apart and pours more bubbly. She shivers, and again curls a finger, telling me to come closer. I kneel down and can smell her musty scent. She grabs my head and pulls me into her. I run my hands along her smooth legs as I kiss around her clit. I run my tongue up and down her labia, teasing her, just avoiding her clit. I can feel with my tongue that she is damp already. I move a hand from her leg, and massage her soft lips with my fingers. It always amazes me how hot a woman's pussy is as I slide a finger into her cunt. She's not wet, she is gushing now. She's holding onto my head, grinding her hips in time with my probing finger.
"Lick my clit you teasing bastard." So I flick her pink bud gently at first, then in a circling motion. I change the shape of my tongue and pick up momentum. She's grinding her hips, faster and faster and I'm flicking her clit with the end of my tongue while I slide another finger into her hot wet cunt. She is panting softly, her breathing heavier and deeper. Sweat drips down between her tits. "Oh yes, oh yes, oh yes, don't stop, don't stop, fuck that's good." I curl my two fingers in to a 'u' shape and press firmly where her g spot is. "FUCK, FUCK, Oh, Oh, FUCK!" She throws her head back as her body shivers and spasms, her legs shaking, my tongue still working her clit. I feel a gush of hot liquid from her cunt as she comes. I lick all of her cum juice from around her pussy, as she shakes with the intensity of her orgasm. She opens her eyes and looks at me.
"Right, now I want you to fuck me rotten."
I don't need a second invite. I roll her over so her feet are on the ground and her body flat on the bed. Her peach of an arse is now there for the taking and my cock, now hard again, nudges against her pussy lips. The bulb pushes open her dripping wet cunt, and I ease myself slowly into her. Teasing. "Fuck me, I said."
My thrusts get harder and go deeper and deeper. My balls slap against her soaking wet bum cheeks. She's tight, wet and hot and loves it hard and fast, so who am I to deny her. We fuck. She pushes her arse against me, harder and faster. Before long I feel that tightening in my balls. "I'm coming again?" she says.
That spurs me on even more. As I feel myself let go, her tight cunt contracts around my cock and I explode inside her as she lets out a scream of pleasure. We both collapse on the bed, dripping with sweat and covered in the sticky pleasures of our sex. As our breathing starts to return to normal, I hear a rustling - something or someone behind me. I look up with a start and see the girl from the bar, standing behind me. "But, I thought, you..."
"Yeah, sorry I'm late, had to get rid of wanker chops. You've met my girlfriend then. Hope she hasn't worn you out? Fancy a glass of champagne?"