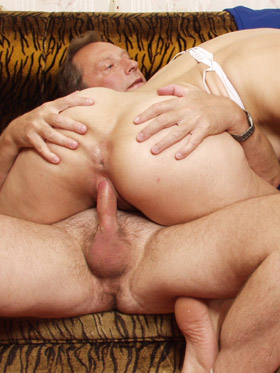 He's not entirely convinced he's doing the right thing as he lets her cuff his wrists to the metal struts of her bedhead. He's nervous, although he's not quite sure why. He trusts her. He knows she won't hurt him, or allow him to come to any harm, but he has no idea what she does have in store, other than her telling him it's a "special treat". Splayed naked on the bed, he can feel the fur beneath him, and he wriggles to enjoy the sensation on his skin. He's hard already, and she drops kisses on his outstretched body, but says nothing. ?They're interrupted by a loud knock on the door. She reaches for her softest leather blindfold and places it over his eyes, ignoring his objections that he won't be able to see, and swiftly heads to answer the door. He strains to hear. One pair of heels clips down the hallway, but how many came back? At least two, maybe three, could be more! He can't work it out, and it frustrates him, but heightens his arousal. He listens intently to the low murmuring and giggling coming from the next room, trying to place voices, but it's to no avail. ?Then he hears the pop of a champagne bottle being opened - and senses the presence in the room with him.
A hand cups his chin and gently opens his mouth, allowing sips of the delicious bubbly from her lips to his. He knows that's her. Then his body involuntarily flinches and twitches as he feels fingers touching him, nails being run the whole length of his body. His cock is bulging and swaying wildly, producing a peal of appreciative laughter from the gathering. Fingers probe his crevices, stroking his torso, parting his legs and caressing his face. A pair of lips descend on each of his nipples, delicately sucking and licking the pink protrusions until they're hard and proud. Tongues work round and round, building a delectable sensation that travels down to his groin, making his prick swell even more for the audience. ?He feels the softest, lightest feathers being run over his cock and balls, the gossamery touch leaving goose-bumps on every inch of flesh, and then it's gone, replaced by the soft stroke of a feminine hand, cupping and stroking his jewels, and another hand tracing spidery patterns on the velvety skin that encases his cock. More laughter as his cock dances to attendance. A nipple is popped in to his mouth. At first he's not sure, but then sucks on it greedily. Another is placed in one of his cuffed hands, and he struggles with his restraints to oblige by caressing it.
A mass of breasts and hair envelops his body. He can feel the soft, yielding flesh being pressed on his. A hand reaches out and rubs the head of his cock over her nipples, making her moan quietly. A second nipple is offered to his mouth, he can tell it's another girl from the angle, and he strains his neck to to take both girls in his mouth as his cock is suddenly encased in tit-flesh. He can feel the girl rhythmically working her breasts up and down the length of his engorged cock, the pleasure building. ?Suddenly, it all falls away. A single tongue travels the length of his cock in one long, lascivious lick. He feels the head of his cock in somebody's mouth, her tongue swirling round, another tongue delicately working around his shaft, and a third lapping at his balls. He begs to have the blindfold removed, and for his troubles, his face is straddled and a wet pussy put over his mouth to silence him. His tongue probes in to the strange orifice, trying to find the clit and give pleasure, but his mind is thinking about the mouths working on his cock. Such exquisite pleasure! ? A giggle as champagne is poured over his cock and tongues and mouths quickly move around him to lap it up. The tongues fall away, and he momentarily feels abandoned, until she kneels beside him on the bed and kisses him, hard and deep. As his tongue explores her mouth, he realises that his cock is being guided inside a pussy.
She continues kissing him as he slides inside the anonymous girl, and lets her mount him. The kissing doesn't stop as mouths descend on his nipples once more. He's in ecstasy as simultaneously his cock is being ridden, his nipples sucked and he's being kissed. Sensory overload. Oh how he wished that blindfold would come off! Bucking wildly under the girl, his hips straining to reach deep inside her, he realises that he's going to explode and tells her. She slips off of him, and he hears giggling again as he writhes and moans, his hot sticky cum spurting across his belly. Silence. He hears them leave, the door closing and the key turning in the lock. She returns to him, he's still spreadeagled and covered in his own cum. She releases the cuffs and removes the blindfold. "How many of you were there?" Silence. "Did I know any of them?" Silence. Chloe.