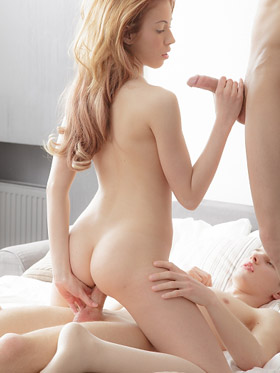 Once we started going to lap-dancing clubs, we couldn't stop. It was my boyfriend that initially persuaded me to go, but after the first time, we were as bad as each other. We constantly encouraged each other, thought up excuses and justifications to go again and again, even though we couldn't afford it, even though we had to get up for work.
We were living in New Zealand, which had a surprisingly liberal attitude to sex, after all the jokes people make about it being like 1950s England. Prostitution had recently been legalised, and although there were some dark and seedy red light areas, there was also a bright shiny lap-dancing club on the high street, right in the middle of one of the main shopping areas, called Mermaids. That first time, I thought I would die of embarrassment as we walked past the doormen, paid and went in. We sat at a table in the corner. In the centre of the room was a raised stage, like a small catwalk, with dancers' poles at both ends. The thing I noticed most was how light it was inside; it didn't seem seedy at all. Most of the girls were walking around in bikinis or skimpy dresses. An overweight, middle-aged man in a suit sat alone at the table next to us. Typical, I thought.
When the music started and the girls came out, I felt like I was in a dream, it was just so weird seeing something like that in the flesh. The girls came onto the stage in pairs. At first they just strutted up and down, circling the poles at each end then after a bit, languidly, seemingly casually, they would drop onto the pole, spin around it, hang upside-down by their ankles, bend themselves against it, wrapping themselves around it like cats. It was completely and utterly mesmerising. During the course of a dance they undressed down to miniscule thongs.
Beside the stage sat hypnotised men who held out special dancer's dollars, waiting for the girls to come over, hold open the elastic of their knickers and allow the men to tuck the money inside. After each dance, the girls would work the room, wandering around in their knickers or in bikinis, collecting money from the tables.
Because we had hidden ourselves away in the corner, and because we were fairly unusual, being a couple, and we probably looked shy, no one approached us that first time. The fat middle-aged man in a suit had girls sitting on his lap all night though, and I couldn't help but feel a bit jealous and left out.
After that first awkward, exciting time, we went again and again, and got braver and braver. I enjoyed getting dressed up and sitting on one of the stools by the stage looking sexy, and feeling the eyes of the men upon me, wondering about me, sometimes looking me up and down as if they thought I worked there. I put money into the girls' knickers, I rolled up dancer's dollars in my mouth so that the girls took them out of my mouth by squeezing their breasts together. I had a private dance on my own in a booth with a girl who looked like Drew Barrymore. It was lovely feeling breasts in my face, but she talked a lot in a girl-to-girl way and it felt a bit like being at the hairdressers. I was rather ashamed to discover that I found her less sexy for that, as if I wanted to objectify her in the way women always accuse men of doing.
Our favourites were two sassy girls, tall and slim with sun-kissed skin and long, perfumed golden-brown hair. They were absolutely gorgeous and what was more they seemed to pay us special attention. The four of us had a private dance, so that my boyfriend and I each had a girl wrapped around our laps at the same time. We weren't allowed to use our hands, but they let us kiss their breasts. They also did a special little show where they lay on the floor in front of us and opened their legs, flashing us their pink little pussies. Afterwards, we tumbled out of the booth drunk with desire, and as they kissed us goodbye, one of them whispered in my ear, "You're going to have great sex tonight".
And we did, but I think that night we realised we had taken Mermaids as far as it could go. We wanted more now. Like the proverbial elephant in the middle of the room, we hadn't actually spoken about this, but above Mermaids was a brothel called The Splash Club. We spent the rest of the evening in Mermaids, restless, almost bored as we thought about what lay ahead, or rather, upstairs. When we walked through the doors to Splash we held hands, scared. It was very quiet, and looked like the lobby and corridor of a hotel. We sat and waited in a little room, like a booth. A fat man came and asked us what we wanted. Suddenly sober, I felt like a pervert, not the sexual adventurer I thought I was downstairs. We waited some more.
After what seemed like forever, a bouncy, bubbly blonde wearing a tiny black lycra dress came in and sat down opposite us. She was pretty and friendly, with a straight bob haircut. She looked like Cameron Diaz. "So, you guys wanna play? Great! I love doing couples." We followed her into a white room, with a white double bed in the centre and a huge white bath in the corner. Perspex lamps softly lighted the room. James and I stood around awkwardly. Cameron turned on the bath taps.
"So, have you two done this before?"
We shook our heads.
"We'll take things a step at a time and just, you know, have fun together."
she said breezily, as if she were proposing a game of charades.
Cameron stood up and strolled over to me. She put her hand on my cheek.
"You have such pretty hair."
And then she put her arms around me and kissed me, and just like that, it had started, and all the awkwardness had gone. I closed my eyes and concentrated on the feel of her lovely soft mouth. When I opened my eyes, I saw James grinning at us, plainly delighted. Cameron pulled off her dress, revealing an enviably slim, flat stomach and nice, comfortably big breasts with sweet pale pink nipples. She slipped off her black lacy thong and I saw her neat little triangle of pale brown hair and her smooth white bottom. She stepped into the bath and we quickly undressed and joined her. In the bath, Cameron said sweetly: "Did you know that three people can kiss?" That really did feel like a dream. Kissing like that made us all giggly as well as hopelessly turned on.
On the bed, Cameron said:
"What do you want?"
"Everything."
Cameron pretty much told us what to do, and she was so sweet and so nice that she made it easy. She took it in turns to give us her attention, kissing James tenderly and passionately until he was so turned on he didn't look nervous any more; then asking me to do things with her in a conspiratorial way. We sucked James's cock together, just like in a porn film. It was brilliant, if a bit weird doing it with a condom. He looked like he was going to faint.
Then, with him laid flat on his back - he didn't look like he could have moved if he'd wanted to - Cameron got on top of him and lowered herself onto his cock. She kissed him a lot and said all sorts of sexy things to him, but he still looked uncomfortable, as if he were scared I was going to freak out. So I kissed him too, then I kissed Cameron while he watched, and with her encouragement I played with her breasts and kissed her nipples. Then he looked happy.
After James had come, he lay there, an expression of total bliss on his face, and Cameron guided me into a sixty-nine with her. With her pussy in front of my face, I was terrified of doing it wrong, but I started slowly and gently and she made lots of encouraging noises, and I was proud of myself when she got wet. What with concentrating on what I was doing, and trying to remember it all, and the unintentional hilarity of James' mind-blown expression, I knew I wasn't going to come, but I didn't care. I knew that the night would provide James and I with years of sexual stimulation and wank fantasies. Either that, or one of us was going to have to get a second job in order to fund what could very easily become a habit!