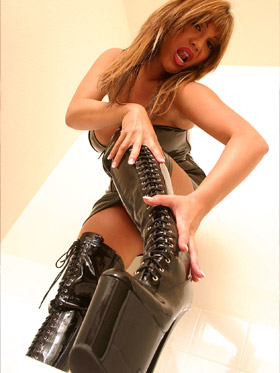 You let yourself in and follow the sounds emanating from the bedroom. M is on all fours on the bed. Her tits are bruised and her nipples red and puffy. She's naked, save a blindfold, and there are mascara'd tears seeping from underneath the satin mask. Angry welts snake over her body. I'm standing over her, fucking her cunt viciously with my strap-on, wearing just that and sheer, black knickers. I've played with her for two hours, and I have her tears and her submission. The bitch has been whipped, slapped, used and abused. She wants to please. Badly.
You position yourself behind me, wrapping your hands over my breasts, following my rhythm. I can feel your hardness in the crevice of my bum as I pump her. You bite my neck and force me to thrust harder in to her, as you rapidly undress yourself. As your cock springs out of your trousers, I motion you to kneel in front of M, ordering her to open her mouth at the same time. Obediently she sucks you, as I continue pounding her from behind. She needs to be used, and I add my handprints to her already-marked bottom. She'll be able to see these for days, a piquant reminder of the afternoon's depravity.
We change ends, pausing for a lingering, deep kiss. You pull her pussy apart, admiring how engorged it's become, before plunging you fat cock in to her wet depths. I force the hard black strap-on cock into her slutty mouth and watch her suck her own juices off. My hands find her nipples, twisting and pulling on them, making her writhe with pain and pleasure, forcing her further back on your shaft. I grab handfuls of her titty flesh, digging my fingers in to the soft skin. I know it'll bruise, and that pleases me.
She begs to be allowed to please Mistress. She's told to remove my panties and strap-on, which she does slowly, covering me with kisses, stroking my body as she discards the obstructions. More gentle now, I suckle her breasts and kiss her, running my fingers along the marks I made... You watch, stroking your cock, as we pleasure each other with our hands and mouths. Fingers sliding eagerly in to wet, slippery slits, exploring each other. We can hear your groaning as our limbs entwine, lost in the pleasure of soft, yielding womanly flesh. Sucking, fucking, enjoying. Giggling, we turn our attentions, licking and sucking on your cock together. Teasing you as we kiss and lick and stroke.
Telling her to prepare me for fucking, I suck on your now-enormous cock, caressing y our balls as my mouth works up and down your thick shaft. M has parted my thighs and is running her tongue up and down my cunt, probing inside, making it ready for you. She watches, rapt, as your cock slides slowly inside me, enveloped by my velvety pussy. I nestle her under my arm and she uses her tongue to bring delicious sensations to my hard nipples, licking and circling them. She asks if she can rub my clit as you fuck me, and gently plays with it as you roughly penetrate me. Soon my back arches and she furiously rubs my clit as you fuck me harder and harder, bringing us both to a noisy, wet, sticky orgasm. Grabbing a handful of her blonde hair, you force her head between my legs to suck your hot, sticky cum from inside me.