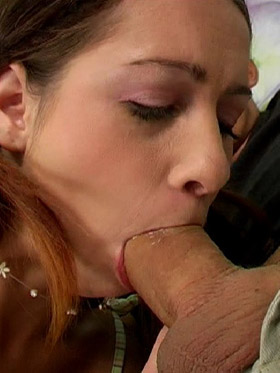 You get a different perspective of life when you view it from your knees. For the vanilla world, rituals are often the killers of desire as you get into a rut. For my master and me, however, certain rituals enhance our relationship. I love waking up before he does, which isn't as easy as it sounds. If he wakes first, I will know it by the feel of his hand against me, gently arousing me and readying me for his possession. It is a lovely way to wake up, particularly if my rear is still tender to his touch. The feel of master's hand, the warmth of his breath against my skin, the sheer pleasure of belonging to him......... well, I get the shivers from remembering it so you can imagine how I feel when it is happening.
Ah, but I actually prefer to wake first. It is a major feat, though, to slip from my master's arms, for he has me tied more firmly here with love than the strongest ropes could ever achieve, but I somehow manage. And then I slip back on his t-shirt that he made me discard the night before, because I am much too shy to pad about the house nude. I love his smell that lingers on it and me, marking us both as his.
With a little luck, I have the coffee finished by the time he gets out of the shower. I place a cup, strong and black and with sugar, on the nightstand. Then I find my knees and contemplate the texture of the floor as I wait for him to enter. As he bends over to kiss the top of my head, his shadow alerts me to his presence. The ritual begins.
"Master?" I say, desire starting to swell even as I speak the opening lines. My eyes raise slowly, memorizing every feature from his knees to his nose. His eyes meet mine, and I am pretty much lost in the warm brownness of them. I begin to tremble now, not from fear but excitement. "Master?" I begin again. "Your loving submissive presents herself to you for your pleasure." The words are almost silly in their formality, but I mean every word of them. I spent the first half of my life searching for this man, and I plan to spend the second half serving him, if he will let me. And I love the fact that he gives me the opportunity to say this each and every morning. It reminds me, and I hope him, of how lucky I am.
He strokes my hair and smiles a knowing, loving smile. I shut my eyes as my mouth searches, almost of its own volition. My hands reach up to massage his butt. I kiss and nuzzle and lick his groin, purposely avoiding my real objective. Once I have my master's cock in my mouth I will be lost. But I can delay only so long before my mouth, again of its own will, insists on taking him inside to the wet warmness. I feel him move against my throat, a sure sign that I am pleasing him. He slowly withdraws his fullness, and I hear a protesting groan in my head even though I know it is only a part of the pleasure. I kiss the head, the tip, with little butterfly kisses, and then he re-enters, this time a little more forcibly. In and out, in and out, my mouth getting hotter and wetter and tighter......... his movements gets harder and quicker and deeper. I lick the tiny drop that dribbles with an eagerness that seems to drive my master more, for suddenly there is an explosion inside my head and my mouth that I quite simply cannot describe.
You thought I was through? No, that is only one ritual, and we have many here. I smile at my master who smiles back lovingly at me. "May I, sir?" I ask. He nods. Licking my lips, I then begin to clean his cock of the stickiness I produced, savouring every drop. He strokes my hair and my face, a sure sign that I have pleased him. What was the coffee for, you ask? I have always wondered that, too, since it is always cold by the time we finish. Forget it, then? No way. Rituals don't have to make sense. They only have to bind us with their comforting familiarity. I wouldn't leave out a single step of my favourite one.